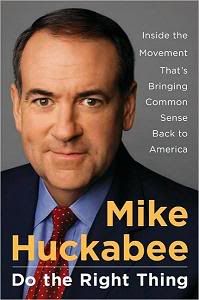 Mike Huckabee's new book,
Do The Right Thing
:
Inside the Movement That's Bringing Common Sense Back to America
, chronicles the amazing campaign that Huckabee ran during the 2008 Republican primaries. How did a relatively unknown Governor of Arkansas come in second place during the primaries with less than 1/10th of the budget (only $16 million) that other candidates had? Huckabee tells us, as well as many touching stories in regards to his supporters, in this new book set to release November 18.
The book will also show insight into and give suggestions as to how the Republican party can regain its former success: by bringing back true conservatism and practicing true conservative principles.
There will also be a
17-day, 53-city book tour
planned for this release. And no, I'm not being paid to promote Huckabee's books.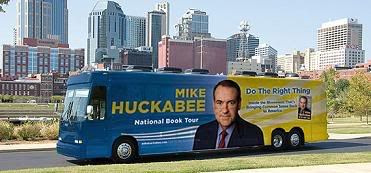 With America electing Barack Obama as our next President, John McCain losing, and most of Congress being overtaken by liberals and Democrats, the GOP needs a new, true conservative leader to vote for when 2012 comes around. What better candidate than Governor Mike Huckabee? With Huckabee's successful new show on Fox News Channel and this new book, he is off to a great start in his journey for a potential 2012 run. I hope people read all of Mike Huckabee's books and come to understand what great things Mike Huckabee can do for the United States.