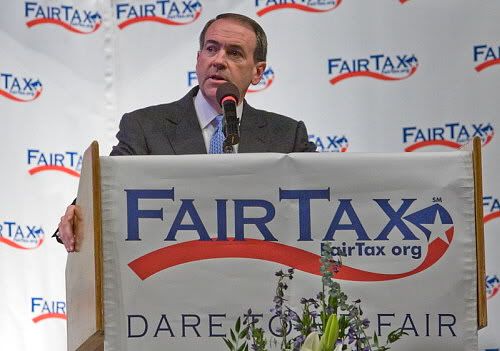 Everyone is curious as to what Mike Huckabee's next step is going to be. The media has been wondering and wondering, even before Governor Huckabee came in "2nd place," and exited the race on March 4. So, what is the next move for the most talented, sincere, and amazing politician, speaker, and leader this world has seen in decades (if not more)?
Well, my answer is, depending on what happens the rest of this year, I believe
Mike Huckabee needs to become the

national spokesperson

and

leading activist

for the FairTax.
Huckabee already has a very good grasp of
what the FairTax is
and what it can do to
really
change the United States and indirectly, this world. He has brought this potentially revolutionary tax system from an unknown, scary idea (much like Mike himself), to become something a substantial amount of this country now has a good idea of how it can change America's economy. Huckabee's numerous speeches during his campaign has spread the word and "sown the seed" of the FairTax across America.
The FairTax platform could very well be the best way for Mike Huckabee to keep his name, his ideas, his policies, his record, and his presence in the American public for years to come. I suppose Governor Huckabee can also write books on the FairTax, since he has already written 5 great books, but some people have already done a good job in writing books about the FairTax (ie.
Neal Boortz
).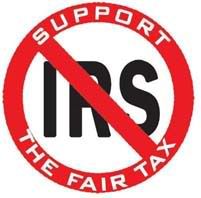 Here's something else to take into consideration. Even if Huckabee was to become President in 2009 (which still is not a complete impossibility), he would still need to convince enough Americans to support this radical change to our taxation system (which would be near impossible given the duties of a President) if he wants to have the FairTax passed. Congress, Washington D.C., "fiscal conservatives," tax preparers, and other cynics would not allow something so radical to be passed into law without a vast amount of the American public supporting this new taxation system. If Huckabee doesn't become the Vice President or even President, this would be the best use of his time in the next few years. He'd be building a coalition and force Washington to take the FairTax seriously, while also keeping his original presidential platform alive.
To those people that think Mike Huckabee should be a TV and/or radio personality, I believe it would be awesome for his supporters, listening to and/or watching him and his messages. It would help boost his celebrity status even further and would be great for Huckabee's personal financial situation. However, it would be a
disastrous
career move for Huckabee's potential 2012 Presidential candidacy. If Mike Huckabee still has aspirations in being President, he cannot "lower" his status to become a member of the broadcast media.
This is just my personal idea and opinion of what Mike Huckabee's next major career move should be, depending on what happens the rest of this year. I truly believe this would be the perfect opportunity for Governor Huckabee to spend his time in the upcoming years. FairTax is a very radical departure from our current tax system. Huckabee, or anyone for that matter, would have to create a
movement
to specifically bring public awareness to this plan: getting rid of our current complacency in putting up with the IRS and the 60,000+ pages of tax code, by completely overhauling our tax system. Proponents of FairTax need to rally around Mike Huckabee, as does Huckabee supporters and voters, to rid ourselves of this intrusive and counter-productive income tax system and switch over to a comprehensive consumption taxation system.